BOX OFFICE PASS QUESTIONS
Where can I pick up passes ordered online?
Your TallPass is your entrance to everything, so make sure to pick up the physical badge during the week of the festival at the Lux (120 E. 1st St. N). This allows for parties, panels, VIP lounge, and all screens. It also is what lets you vote for audience awards. You can do so in person at the Tallgrass Film Center beginning Monday, September 26.
Naming your passes 
We will go to print with all badges on September 9, so if you name your badge, it will be ready upon your arrival for pick up. If you do not name it or purchase it after September 9, we will print on-site but expect a 5-10 minute wait for printing. We have a seating area in the lobby for waiting. To name the passes, login here, select passes, then click edit details to enter your name and/or film or company.
How do I transfer my additional passes to others?
With your badge tied to your email, you can share additional badges with friends and loved ones so they can claim their own tickets and participate in the online voting. The ballots go to the email holder. To transfer passes: Log in using your email account to Eventive here. Click the pink log-in button in the bottom left hand corner. You will see an image like the below: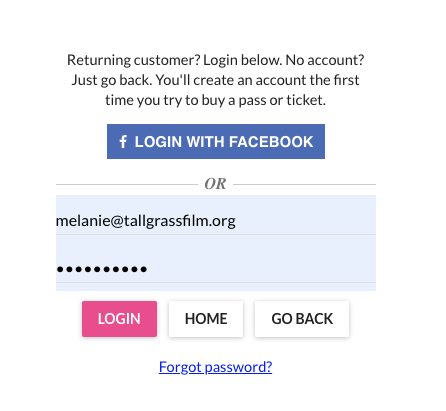 If this is your first log-in, click forgot password to have a reset sent to the email you are using right now! Set whatever password you want. Logged in before? Then just login.
Next: Click the third button in the upper right-hand corner for your passes. See the image below:

Click the Manage button on each pass you'd like to transfer (see image below):

Then enter the email of the participant you are transferring to and maybe this email with it for the below information:
Your recipient will receive an email from noreply@eventive.org with the subject line "Gift from [your email address]" Your recipient must click the blue Accept button!
NOTE: If your recipient doesn't see the email, ask them to check their Spam folder and to search for "noreply@eventive.org"
Once your recipient clicks Accept, the ticket/pass will no longer appear on your My Tickets/Passes page.
Why Claim Tickets in Advance?
We are happy to let you walk up and grab a seat as a passholder, and this is always fine at the Orpheum or Scottish Rite (Temple Live). But please know that some venues have a smaller capacity, so if you want to have a place reserved and a stress-free festival, snag a free ticket online in advance! This is most important at the film center with only 25 seats.
Claiming tickets to films
To claim single tickets with your pass for free, while logged in, go to the menu (left upper hand corner) and select film guide (pictured below)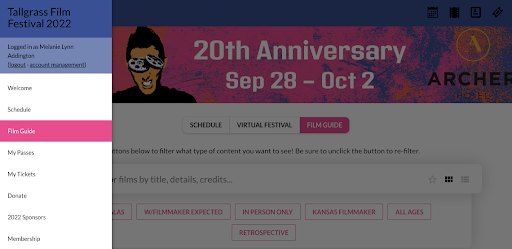 Scroll through the film options and select a film that you may want to see. After reading its details, select a showing (sizeable pink button on the film page) to see the pop-up below:

Click the preferred date and time (films play once in person, and many play on our virtual Eventive platform at home) and quick order for $0 to obtain your free ticket using your pass.
For additional information visit Eventive Ticketing