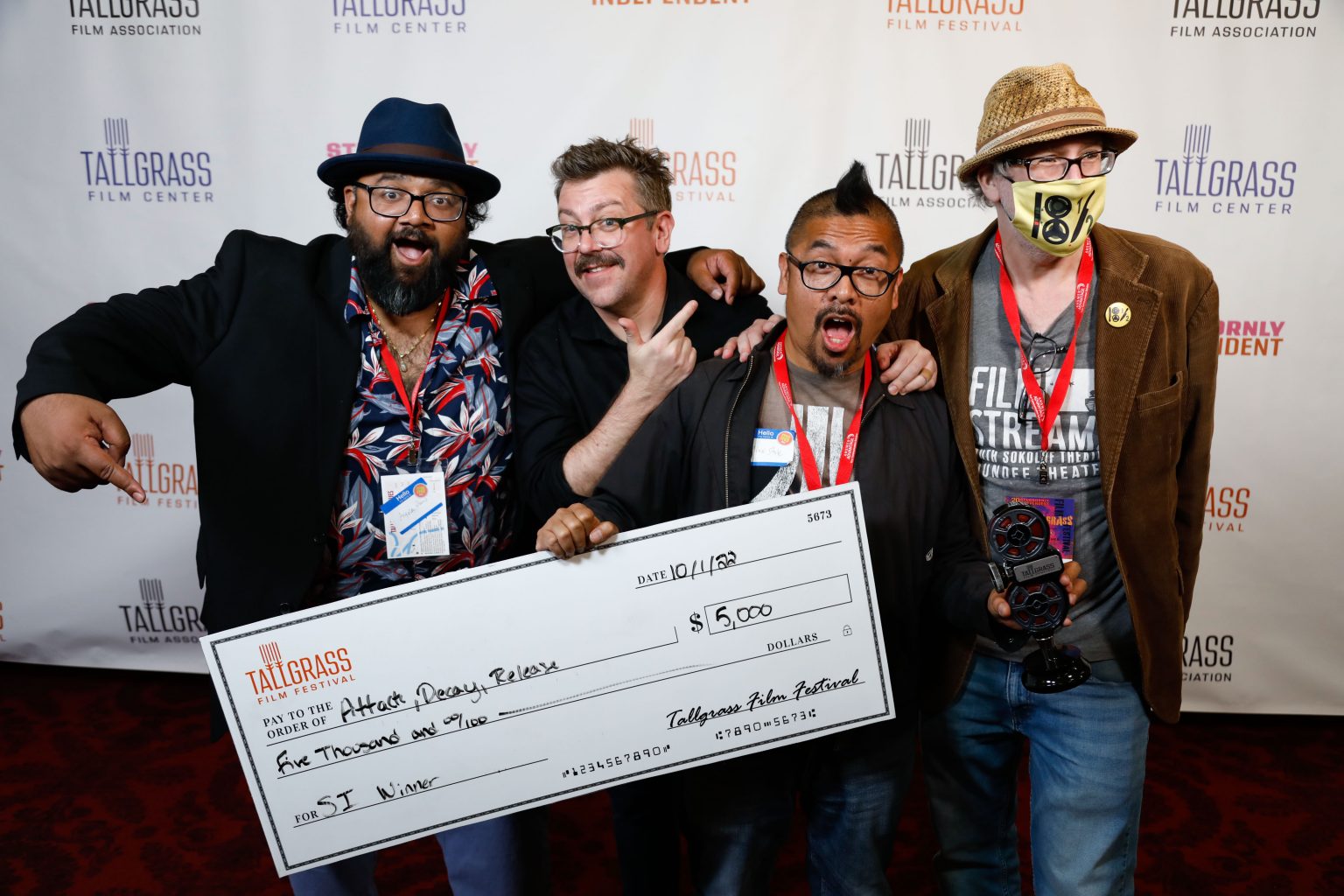 Tallgrass Film Association (TFA) announces the call for submissions on Film Freeway for the 21st annual Tallgrass Film Festival. Held in and around downtown Wichita from October 5-8, 2023, the festival is partnering with Prairie Fire Race on Sunday. Tallgrass participants can cheer on the runners that morning while closing out their day with some films and a party. 
"This new partnership is exciting as we both bring in people from all over the country to see Wichita for the vibrant city it is," Executive Director Melanie Addington said. "Working alongside our regular partners this year such as Exploration Place, Ulrich Museum, Wichita Art Museum, Orpheum Wichita and so many more really showcases the best Wichita has to offer: community." 
An additional partnership now in its third year is with the Transgender Film Center founded by Kansan Sav Rodgers to provide fee waivers for all transgender directors. Reach out to Melanie Addington at
info [a] tallgrassfilm.org
for a waiver.  
The largest independent film festival in the state of Kansas, the 2022 Tallgrass Film Festival received over 1300 submissions and screened
243 films from 27 countries.
In 2022, Tallgrass presented films to an audience of 12,000+ and hosted
320
visiting filmmakers from across the globe. 
In addition to showcasing independent cinema from around the globe, including documentary, narrative, world cinema, animation, LGBTIA+, retrospective, and world premiering films, the 21st annual Tallgrass Film Festival is specifically seeking films to feature in the following special programs and spotlights:
Highlighted Categories
Gordon Parks Award for Black Excellence in Filmmaking

– Feature-length film with no traditional distribution deal at the time of the festival and may submit for free. Open to films of any production budget from any country from any genre with a director that self-identifies as Black, African-American, or part of the African Diaspora.

Female Filmmaker Spotlight

– Feature films directed by women 

Stubbornly Independent Films

: domestic, narrative features made for under $750,000 USD with no traditional distribution

Vortex Animation, Experimental, and VR short films

– This is for all animation, experimental, hybrid, or virtual reality projects. 

Murmurations

– The Murmurations category, in collaboration with Ulrich Museum of Art, is open to short and feature films that meet the following requirements: fifty percent of production is based in Spain OR the writer, director, or producer is based in Spain; the original voice is in Spanish or one of the co-official languages of Spain (Basque, Catalan, Aranese, and Valencian); and subtitled in the English language

.

Timothy Gruver Spotlight on Kansas Filmmakers

  – Kansas filmmakers submit for free – see below for official rules)

Joel Fein Emerging Filmmakers Showcase

– short films from filmmakers (19 and younger) may submit for free 
"I am looking forward to seeing submissions to our long-running categories which have always brought amazing stories and talent to Wichita, as well as welcoming and celebrating submissions to our recently established Gordon Parks and Murmurations categories. I am excited to see what comes our way and to create another amazing program in the fall," Program Director Andre Seward said.
Tallgrass Film Festival provides cash awards in numerous categories including the big three: 
Stubbornly Independent: $5,000 and Tallgrass tap created by Van Chase Studios

Gordon Parks Award for Black Excellence in Filmmaking presented by Cargill: $5,000

Female Filmmaker Spotlight: $5,000 and award
Other awards and categories include:
Best Kansas Filmmaker Documentary Short Film

Best Kansas Filmmaker Narrative Short Film

Best Emerging Documentary and Narrative Short

Best Narrative and Documentary Short

Best Narrative and Documentary Feature

Best Vortex Short

Best Murmurations Film

Audience Award-Winning Documentary & Narrative Feature

Audience Award-Winning Narrative and Documentary Short

Golden Strands Awards (awarded by Tallgrass Programming Directors) for Outstanding Documentary and Fiction Feature, Acting, and more
"The last few years have been some of the toughest years in terms of judging submissions since there have been so many amazing submissions. I don't anticipate this year being any different! The creativity and craft lately have been astounding. I'm excited to see what this year brings," Short Film Programmer Hannah Bothner said.
SUBMISSION GUIDELINES
The final deadline is June 30. Full submission details are available on the same page. Fees range based on deadlines. To submit a film or learn more, please visit our
FilmFreeway
page and follow the official submission instructions.