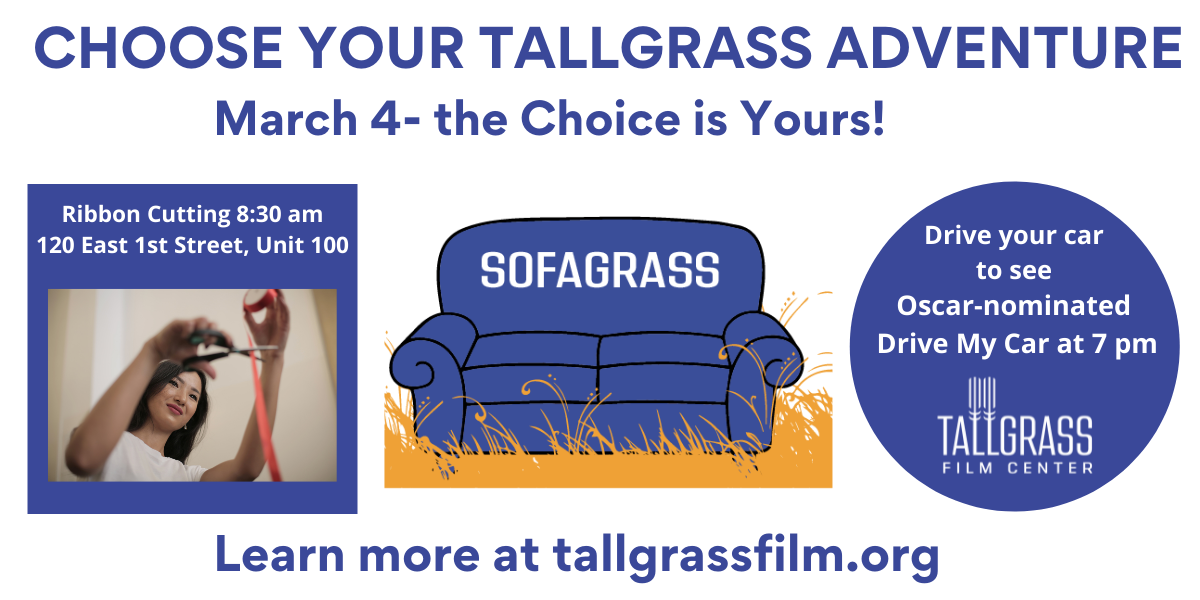 WHEN: Friday, March 4, 8:30 AM
 WHERE: Tallgrass Film Center in the Lux (120 East 1st Street, Unit 100)
WHAT: Tallgrass Film Center will have a ribbon-cutting ceremony followed by a brief Q&A session with Executive Director Melanie Addington before a special opening night screening showcasing Oscar's hopeful Drive My Car. With the 2022 season planned, the Tallgrass Film Association has numerous events planned throughout the year for film fans, local and aspiring filmmakers, and Tallgrass Film Festival faithful to enjoy, be entertained and immerse themselves in the world of cinema as the organization takes a formal step into year-round programming and events.
Addington previewed the ribbon cutting and Q&A press session, saying, "Getting the opportunity to have our own space and to host events and our educational events is a great next step for Tallgrass. We are so lucky to be working with Bokeh Development to be housed in the Lux and can't wait to expand independent film offerings to Wichita year-round. There will be a lot to talk about because there is a lot to come!"
SCREENING DATES AND TIMES: Friday, March 4 and Saturday, March 5 at 7:00 PM, Saturday, March 6 and Sunday, March 7 at 1:00 PM
THE FILM: Ryusuke Hamaguchi's Drive My Car has been nominated for 4 Academy Awards, including Best Picture, Best International Feature Film, Best Director, and Best Adapted Screenplay. In the film, following the unexpected death of his wife, a renowned stage actor/director receives an offer to direct a production of Uncle Vanya in Hiroshima. He seeks a chauffeur to drive him there. The actor turns to his go-to mechanic, who ends up recommending a 20-year-old girl. Despite their initial misgivings, a special relationship develops between the two. Once there, he begins to face the haunting mysteries his wife left behind.
For Media specific inquiries, please contact:
John Wildman                                                               Cristina Uranga
Wildworks PR                                                               Wildworks PR
323.600.3165                                                                cris@echopublicity.com