Tallgrass is proud to present a slate of LGBTQ+ programming in celebration of Pride for the month of June. Along with hosting features and shorts to be streamed, TFA has partnered with the Transgender Film Center to present free panels hosted by TFC Executive Director and Tallgrass alumni Sav Rodgers (topics and dates to be announced!)
Tickets are on sale now for $10 per film or block or see everything with a Pridgrass pass for only $25. Stay tuned for more details on free filmmaker Q&As!
A portion of all Pridegrass ticket sales will be split between Tallgrass and the filmmakers in support of indie film!
See the full program below:
Keyboard Fantasies 
Documentary | Directed by Posy Dixon, produced by Liv Proctor | 60 minutes
Streaming through July 31
As a sci-fi obsessed woman living in near isolation, Beverly Glenn-Copeland wrote and self-released Keyboard Fantasiesin Huntsville, Ontario back in 1986. Recorded in an Atari-powered home studio, the cassette featured seven tracks of a curious folk-electronica hybrid, a sound realized far before its time. Three decades on the musician –now Glenn Copeland –began to receive emails from people across the world, thanking him for the music they'd recently discovered. Courtesy of a rare-record collector in Japan, a reissue of Keyboard Fantasiesand subsequent plays by Four Tet, Caribou, and more, the music had finally found its audience two generations down the line. Keyboard Fantasies: The Beverly Glenn-Copeland Storysees the protagonist commits his life and music to screen for the first time -an intimate coming of age story spinning pain and the suffering of prejudice into rhythm, hope, and joy. Half aural-visual history, half DIY tour-video, the film provides a vehicle for our newly appointed queer elder to connect with youth across the globe. A timely lullaby to soothe those souls struggling to make sense of the world.
---
BARE
Documentary | Directed by Aleksandr M. Vinogradov, produced by Aleksandr M. Vinogradov, Thierry Smits, Fabien Defendini | 91 minutes
Streaming through July 31
Content warning: Graphic Nudity
Eleven naked men audition, rehearse and perform for the premiere of master Belgian choreographer Thierry Smits's new contemporary dance piece Anima Ardens. Mixing intimate rehearsal footage with extensive and breathtaking dance sequences, BARE follows the choreographer and his team as they work to explore difficult, often taboo subjects through nudity and dance. In this bold exploration of artistic conflict, gender, and sexuality the one constant is the conceit that the body is the last bastion of personal freedom.
---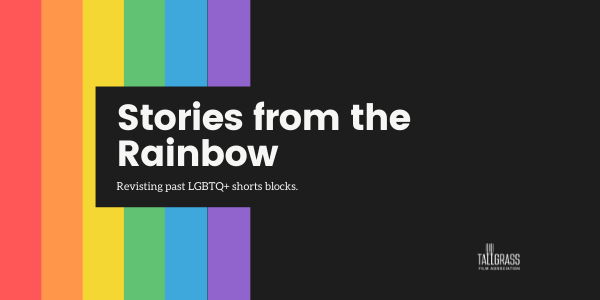 Stories from the Rainbow
Streaming through July 31
Is there anything more beautiful than love, discovering who you are, and living out loud? Experience the beauty with these films from all over the spectrum of love.
These shorts are highlights from past Tallgrass programs. Please note: A portion of all ticket sales will be shared with the filmmakers
Kostym | d. Ted Miller | USA | 2020 | 6m
La Gloria | d. Mary Evangelista | USA | 2020 | 16m
The Longest Walk | d. John Haley | USA | 2020 | 10m
Journal | d. Alex Bliss | USA | 2020 | 8m
That Girl, Peugeot | d. Rebecca Coley | UK | 2020 | 15m
Stonewall: The Making of a Monument | d. Cheryl Furjanic | USA | 2020 | 19m
The Act | d. Thomas Hescott | UK | 2020 | 18m
In the Pink | d. Katharine Stocker | USA | 2020 | 14m
Eat the Rainbow | d. Brian Benson | USA | 2020 | 20m
---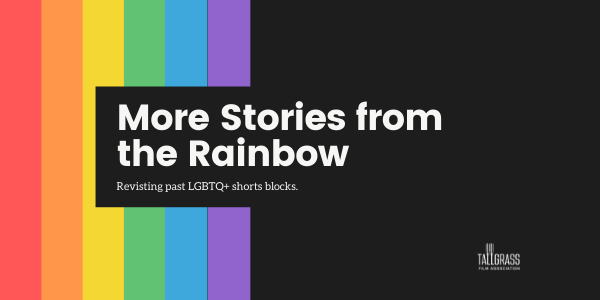 More Stories from the Rainbow
Streaming through July 31
Continue celebrating Pride with another round of LGBTQ+ shorts.
These shorts are highlights from past Tallgrass programs. Please note: A portion of all ticket sales will be shared with the filmmakers
Listen | d. Jake Graf | UK | 2019 | 5m
Xiao Xian | d. Jiajie Yu Yan | Spain | 2019 | 18m
Haiku de um Poeta Morto (Haiku from a Dead Poet) | d. Akira Kamiki | Brazil/UK | 2020 | 5m
Instinct | d. Maria Alice Arida | USA | 2018 | 19m
Tinge | d. Saidah Belo-Osagie | USA | 2020 | 10m
Miss Man | d. Tathagata Ghosh | India | 2019 | 25m
Making Samantha | d. T Cooper, Allison Glock-Cooper | USA | 2020 | 11m