Tallpasses on sale now. Single tickets to films go live August 15.
August 1- The Tallgrass Film Festival shared a first look at gala film selections and special presentations for this year's 20th Anniversary edition. Taking place September 28-October 2 in downtown Wichita, Troma Films legend Lloyd Kaufman will be a recipient of the festival's Ad Astra Award.
As part of its salute to Kaufman and Troma, a "Conversation on Film" will be held. Tallgrass will be screening Kaufman's cult classic, The Toxic Avenger (1984), Poultrygeist (2006), as well as his latest film, Shakespeare's Shitstorm (2021).

Mini-Troma Fest
Director: Lloyd Kaufman
Country: USA, Running Time: 102 min
When the American Chicken Bunker, a military-themed fast-food restaurant, builds its latest chain restaurant on the site of a Native American burial ground, the displaced spirits take revenge on the unsuspecting diners and transform them into chicken zombies. Now, it's up to a dimwitted counter boy, his collegiate lesbian ex-girlfriend, and a burqa-wearing fry cook to end the foul feathered menace.
Director: Lloyd Kaufman
Country: Albania, USA; Running Time: 94 min
Mad scientist Prospero runs away with his blind daughter Miranda to Tromaville, hiding from evil pharmaceutical execs, including his sister Antoinette. The latter ruined his career after he found the cure for opioid addiction. With the help of a handicapped crack-whore, he releases a massive amount of laxative to whales while his enemies are on a cruise ship to North Korea. A humongous shitstorm washes the boat away and brings them to Tromaville, where Prospero can now fully realize his ultimate vengeance.
Directors: Michael Herz, Lloyd Kaufman
Country: USA; Running Time: 82 min
Tromaville has a monstrous new hero. The Toxic Avenger is born when meek mop boy Melvin falls into a vat of toxic waste. Now evildoers will have a lot to lose.
TALLGRASS FILM FESTIVAL GALAS ANNOUNCED
Friday, September 30, Tallgrass Film Festival will host a Double Gala event with Daniel Fetherston and Danny Szlauderbach's documentary We Were Famous, You Don't Remember: The Embarrassment. The film is making its world premiere at the Orpheum Theatre (200 N. Broadway). The party afterward will include a reunion concert of the band's members and certainly be a post-punk event to remember. While Bryan Darling and Jesse Finley Reed's documentary All Man: The International Male Story screens next door at the Temple Live (Wichita Scottish Rite Center) 332 E. 1st Street. After the film people can join the outdoor party with ticket proof of All Man.

Directors: Bryan Darling, Jesse Finley Reed
Country: USA; Running Time: 83 min
All Man: The International Male Story journeys across three decades of the catalog's unlikely but lasting impact on fashion, masculinity, and sexuality in America. Gene Burkard, a once-closeted Midwesterner and GI, found freedom in San Diego, where he transformed men's fashion into something cosmopolitan, carefree, and trend-setting International Male reached gay and straight customers alike as it redefined images of masculinity in popular culture, generating revenue and circulation in the millions. This character-driven documentary crafts a portrait of a band of outsiders who changed how men would look – at themselves, each other, and how the world would look at them.
World Premiere
Directors: Daniel Fetherston, Danny Szlauderbach
Country: USA; Running Time: 103 min
Four bespectacled misfits in Kansas — Bill Goffrier, Brent Giessmann, John Nichols, and Ron Klaus — grabbed instruments and blasted out "a ravenous strain of rock 'n' roll" as tuneful, brainy, and enthralling as anything coming from the coasts.  They played Chicago, D.C., and New York, drawing the attention of influential figures like Allen Ginsberg, John Cale, and Jonathan Demme — but their independence and refusal to sell out sparked tension within the group and kept mainstream success at bay.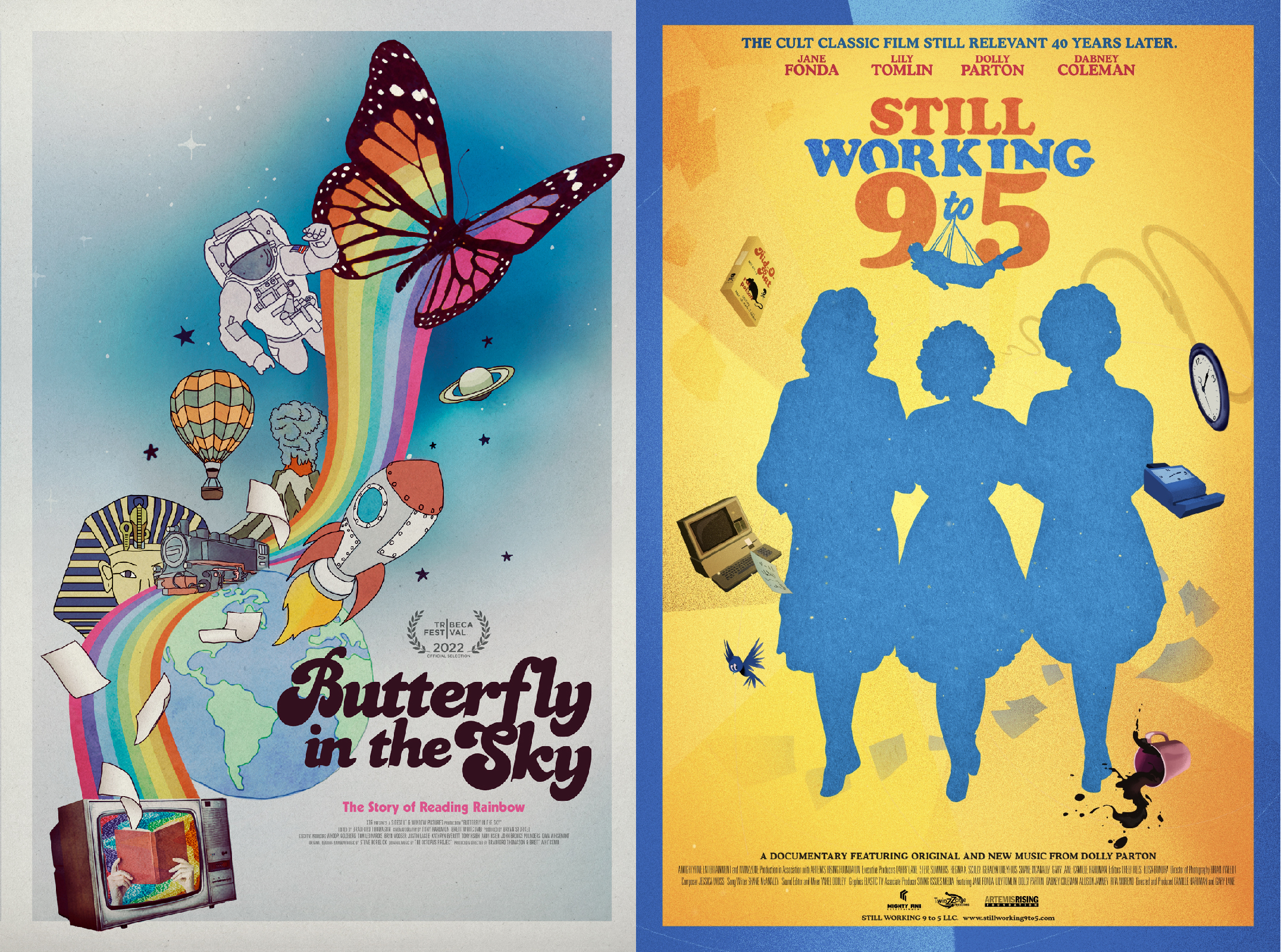 Bradford Thomason and Brett Whitcomb's Butterfly in the Sky will be the Centerpiece Gala selection, screening on Saturday, October 1 at the Orpheum Theatre. Camille Hardman and Gary Lane's Still Working 9 to 5 will screen in the Orpheum on Sunday, October 2.
Directors: Bradford Thomason, Brett Whitcomb
Country: USA; Running Time: 87 min
Two seconds into the bubbling synth sounds of its theme song will have a child of the 1980s or '90s exclaiming, "Reading Rainbow!" Such is the beloved and ubiquitous nature of the classic children's literary television show that introduced millions of kids to the wonder and importance of books. Not only did the series insist on having kids speak to kids about their favorite stories, but Reading Rainbow introduced the world to one of the most adored television hosts in LeVar Burton.
Directors: Camille Hardman, Gary Lane
Country: USA, Running Time: 96 min
When the highest-grossing comedy of 1980, 9 to 5 (starring Jane Fonda, Dolly Parton, Lily Tomlin, and Dabney Coleman) exploded on cinema screens, the laughs hid a serious message about women's inequality in the office.

RETROSPECTIVE
Two cinema classics will get the big screen treatment at Tallgrass Film Festival. John Hughes' Planes, Trains and Automobiles (1987) leads the way on Wednesday, September 28. Then, on Saturday, October 1, a 35mm print of Richard Kelly's mind-bending classic Donnie Darko (2001) will screen at the Orpheum.
Director: John Hughes
Country: USA; Running Time: 93 min
A Chicago advertising man must struggle to travel home from New York for Thanksgiving, with a lovable oaf of a shower curtain ring salesman as his only companion.
Director: Richard Kelly
Country: USA; Running Time: 113 min
A troubled teenager is plagued by visions of a man in a large rabbit suit who manipulates him to commit a series of crimes.
The remainder of the schedule will go live on September 1. Passholders can claim tickets now, and single tickets go on sale on August 15.  Learn more at tallgrassfilm.org.