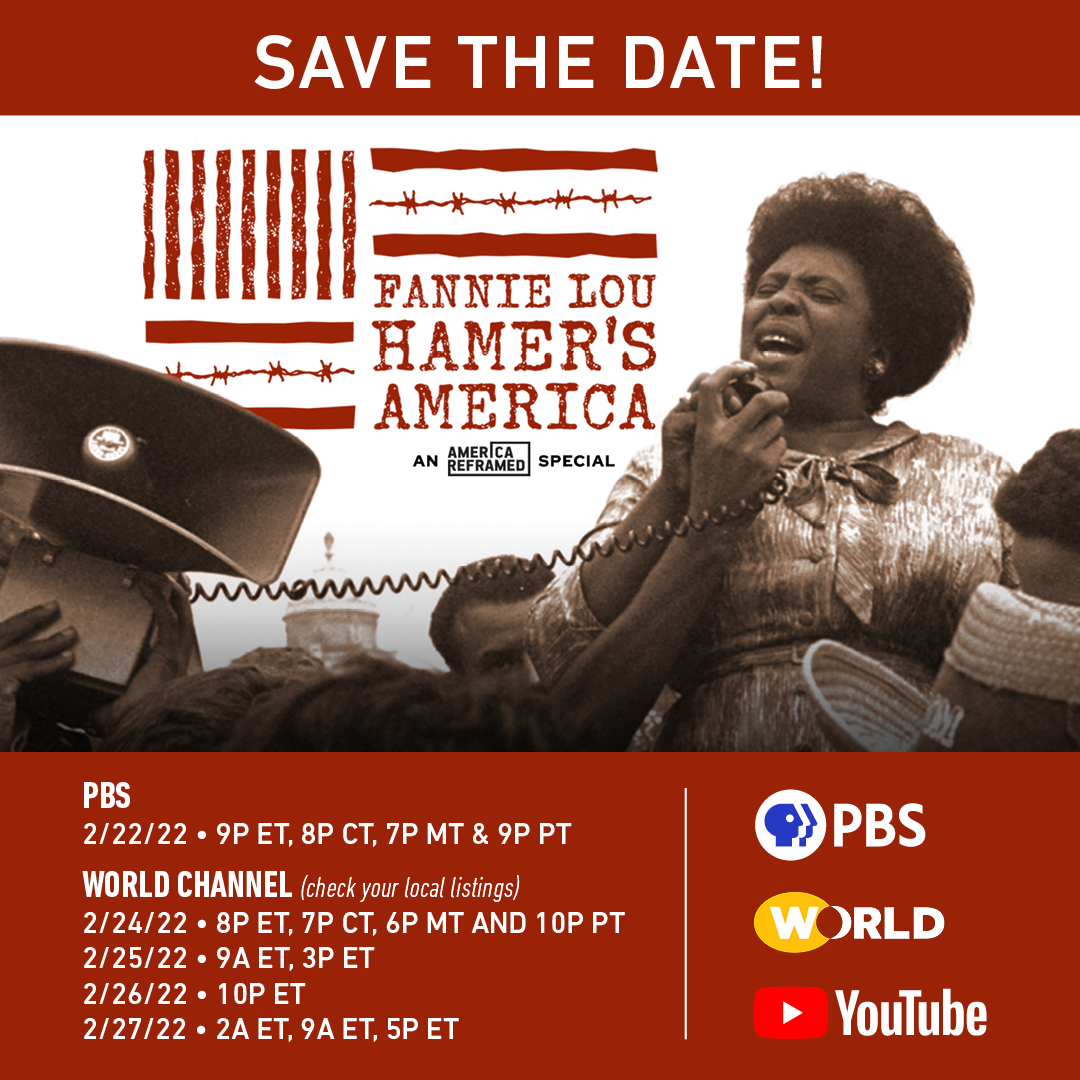 "If I hate you just because you hate me, I'm no better than you are" – Fannie Lou Hamer.
Executive Director Melanie Addington sat down with Monica Land, Executive Producer, Producer, Researcher, Photographer, Writer, of Fannie Lou Hamer's America for a quick Q&A before her film shows on PBS Kansas.
An award-winning journalist, Land has been writing for local and national media outlets for more than 25 years specializing in investigative and statistical reporting, feature and enterprise articles, general news writing and historical research. As the niece of civil rights icon, Fannie Lou Hamer, Monica Land has written numerous feature articles about Hamer, as well as an essay for the book, Pieces From The Past: Voices of Heroic Women in Civil Rights (2011) published by Joan H. Sadoff  and Tasora Books.
 America ReFramed, the Peabody Award-winning documentary series coproduced by WORLD Channel and American Documentary, Inc., ushers in its milestone tenth season with the world premiere of Fannie Lou Hamer's America. Produced by Hamer's great-niece Monica Land and Selena Lauterer and directed by Joy Davenport, the captivating portrait of one of the civil rights era's preeminent icons through her own speeches, interviews and songs follows Hamer's life from the cotton fields of Mississippi to the halls of Congress. Fannie Lou Hamer's America: An America ReFramed Special broadcasts on PBS on Tuesday, February 22, from 9 to 10:30 p.m. ET and on WORLD Channel on Thursday, February 24, at 8 p.m. ET during Black History Month. Beginning on February 22, the film also streams on worldchannel.org, WORLD Channel's YouTube Channel and on all station-branded PBS platforms, including PBS.org and the PBS Video app, available on iOS, Android, Roku streaming devices, Apple TV, Android TV, Amazon Fire TV, Samsung Smart TV, Chromecast and VIZIO. 
Through rare footage and recordings, some not seen or heard in half a century, Hamer tells her story — and that of America — more than four decades after her death. The directorial debut of Davenport and the brainchild of Land, the film offers photos, documents, performances and sources, some unearthed by family members, to a new generation of audiences called upon to take up the mantle of preserving American democracy. Fifteen years in the making, Fannie Lou Hamer's America presents the daughter of Mississippi sharecroppers' passion and commitment to voting rights and economic justice and her rise to national prominence. The film captures Hamer's resistance as she works to register Black voters, runs for Congress, fights for economic opportunity in her home state and more — all while government leaders, the media and even her civil rights peers tried to silence her. 
"As a family member of Mrs. Hamer's, Monica Land has provided us with the rare opportunity to peek inside the life of one of America's most important moral leaders," said Erika Dilday, executive director at American Documentary. "We are happy to welcome this film to the roster of diverse and thought-provoking works that comprise the America ReFramed catalog." 
Learn more at: https://worldchannel.org/episode/america-reframed-fannie-lou-hamers-america/
 Premiered today on our Youtube Channel is our Q&A with Land: Tallgrass Chats with Fannie Lou Hamer's America Producer Monica Land